Cancer horoscopes + psychic readings
Cancer
More Horoscopes:
Money & Finance
Love & Relationship
Career & Business
Daily Horoscope for Sunday 24 September: view Saturday or Monday
You could find yourself on the receiving end of criticism, but before you ignore it and pursue a plan determinedly, look closely at the grain of truth that exists within what's being said. You could have attention drawn to something you ought to be considering. See this as a timely opportunity to take a helpful step forward with a plan. Doing so will send a clear message that you took on board criticism in the way it was intended. Relationship dilema, have you got a true Soul Mate in your midst ?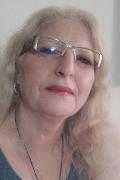 Call featured Psychic Tina
Tina is a Natural Psychic Clairvoyant who is also a very good Medium. Tina can do distant healing helping you feel more yourself. Tina uses her guides and angels to help guide you and give you the answers that you are seeking regarding any situation you may be facing. Tina can also use the Pendulum, Tarot and Angel cards if requested, to give a very indepth and detailed reading. Tinas readings will leave you with a zest for life and feeling content with yourself. 
Call Tina quoting PIN 4375.
Weekly Horoscope starting 22 September:
We all know people who are 'ideas machines'. They have one seemingly ingenious idea, followed by another. However, despite the plethora of visions they manage to generate, it appears few come to fruition. It's great to have a wonderful idea, but figuring out the best way to implement it can be perplexing and frustrating. This week, it could become clear what you need to do to take a particular idea to the next stage. If help or support from others is needed, then you can be certain both will become available to you.
Monthly Horoscope for September:
Last month's eclipses put the spotlight squarely on your earnings and finances. This month, you can expect more progress on financial fronts. This could be evident in the first few days of September, too. One way or another, your bank balance looks set to become healthier due to a financial matter finally being resolved or you seizing a fantastic opportunity to boost your income. Coming weeks will also indicate how much clout your words carry, so be aware of how less verbal force will be needed to make a point or get your way with certain discussions!
More Horoscopes:
Money & Finance
Love & Relationship
Career & Business
2017 Forecaster
See how you benefit from a Forecaster report, find out what's coming up in the days ahead.
Get My 2017 Forecast