Capricorn horoscopes + psychic readings
Capricorn
More Horoscopes:
Money & Finance
Love & Relationship
Career & Business
Daily Horoscope for Sunday 21 January: view Saturday or Monday
The way you're approaching a certain task inspires and motivates you. You know what you're doing is right and the desired result will come from consistent effort. All would be fine if it weren't for someone who doesn't understand your methodology. A boss or authority figure hopes you'll see sense and adhere to the way they want something done. Your only option might be to clear the air and have an awkward but potentially helpful conversation. Do you fully understand your relationship? Try a free Star Lovers.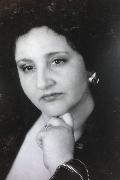 Call featured Psychic Irene
Irene is a gifted psychic, who also is very popular as a Medium. She can use Tarot if requested, but dont worry, she wont have to ask you many questions to establish what is going on around you. 
Call Irene quoting PIN 4087.
Weekly Horoscope starting 19 January:
The saying about 'sinking or swimming' is a harsh one. We all do ourselves a disservice when it comes to realizing or accepting how able we are to cope with and overcome daunting situations. Although events this week might require you to prove yourself in some way, you're more than able to do so in the eyes of anyone you're determined to impress. Be proud. Be confident. Trust that, where any need to 'swim' is concerned, you have all the strength and support you need to do so impressively!
Monthly Horoscope for January:
If you received more praise, would you welcome or be suspicious of it? If you felt more loved and wanted, would you embrace or be uncomfortable with it? The answers to both questions will become clearer this month as fantastic cosmic support is on offer to bring more recognition, praise and, above all, love to your world. Don't be shy or modest when all of the above come your way. You know you've earned and deserve each. Now, it's time for others in your world to acknowledge this.
More Horoscopes:
Money & Finance
Love & Relationship
Career & Business
2018 Forecaster
See how you benefit from a Forecaster report, find out what's coming up in the days ahead.
Get My 2018 Forecast