Scorpio horoscopes + psychic readings
Scorpio
More Horoscopes:
Money & Finance
Love & Relationship
Career & Business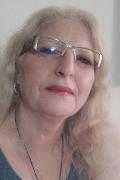 Call featured Psychic Tina
Tina is a Natural Psychic Clairvoyant who is also a very good Medium. Tina can do distant healing helping you feel more yourself. Tina uses her guides and angels to help guide you and give you the answers that you are seeking regarding any situation you may be facing. Tina can also use the Pendulum, Tarot and Angel cards if requested, to give a very indepth and detailed reading. Tinas readings will leave you with a zest for life and feeling content with yourself. 
Call Tina quoting PIN 4375.
Weekly Horoscope starting 22 September:
You appear to be doing the equivalent of 'dipping your toe in the water' in a particular way. This could be seen by you or others as deliberate hesitancy on your part. It might appear as if you're applying a delaying tactic to something that anyone else would jump straight in with. However, you're right to apply a bit of caution. A particular move needs to be timed carefully. If you sense it's appropriate to take your time to ensure this is done properly, then you'll be taking the wisest step you could take at this stage.
Monthly Horoscope for September:
Plans that commenced last month around the Solar Eclipse on August 21 start to move up a gear this month. For many Scorpions, something career-related commenced and, from as early as the 3rd and 5th of September, a professional pursuit could be launched properly. A Full Moon on the 6th highlights affairs of the heart, taking a relationship to a new and exciting level or possibly bringing news related to a child or children. The feel-good factor continues as the month draws to a close as it becomes clear a cherished dream has potential to become something more.
More Horoscopes:
Money & Finance
Love & Relationship
Career & Business
2017 Forecaster
See how you benefit from a Forecaster report, find out what's coming up in the days ahead.
Get My 2017 Forecast